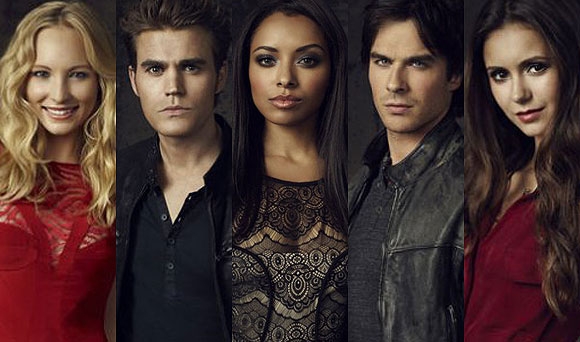 Back in Groundhog land, Bonnie has returned with several items that Kai has requested.  Kai makes it clear that Bonnie's magic, as well as his supposed element and whatever Damon was doing on May 10th, 1994 are the key to getting out of there. Damon threatens torture but Kai warns that if he is tortured, he will get angry and will not be in the mood to help, causing Bonnie to tell Damon to play nice.  It turns out that Damon doesn't want to play nice because it would mean relating the worst thing he has ever done. Hmm, a serial killer and a rapist has something beyond that to be ashamed of?
Flashback time:  Damon shows up at the Salvatore home and the door is answered  by Stephan.  When Damon tries to enter, he finds that he is barred from entrance. It seems that it's been fifty years since the brothers have seen each other and Stephan is not impressed by Damon's claim about wanting to change his ways.  Putting flowers on Lexy's grave 17 years after killing her, doesn't hold much weight in Stephan's book but he is curious as to why Damon wants to make amends.  Zack makes his appearance and Stephan introduces him to Damon.  Zack invites Damon in and Stephan again queries Damon about starting over.
Elena and Stephan talk by phone about their search for Sarah.  It seems that Sarah is not on any of the roads and so Stephan surmises that Sarah must be in Mystic Falls.  Elena believes this is horrible because Sarah knows that she and Caroline are vampires.  Stephan cuts the calls short and starts his bike up, only to be interrupted by Elena, who demands to know where the hell he is going.  When Stephan replies home, Elena tells him that Savannah is not his home and that it is merely an escape.  Stephan says that now that he can longer enter Mystic Falls, he has a new home. Stephan seems to be making perfect sense to me because there is a large world outside of Mystic Falls. It seems that Stephan plans to go to Savannah, pack up his things and start over because Enzo killed Ivy.  Elena demands proof that Stephan is happy and if he fails to seem happy enough for her, she will harass him.  Umm yeah Elena not believing to put this one horse town behind her seems far more problematic. It must be all of the brainwashing in those Founder's Day celebrations. Elena hops on Stephan's bike, saying that since she cannot enter Mystic Falls, it's up to Matt and Jeremy to get a handle on Sarah.
Jeremy is busy puking his brains out, while Matt and Alaric chat about Jeremy's drunkenness and the missing Sarah. Matt is on his way to Tripp's office to see if he can get Tripp to trust him enough to tell him what he knows. After ending his call, Alaric takes the time to flirt with Jo, saying that Jeremy needs a quick hangover cure, as well as an STD test.
 Matt arrives at Tripp's office to find Tripp notifying Jay's parents that he found their son dead in the woods last night.  Matt says that Jay was drunk and that he should have driven him home.  Tripp decides to go and see the sheriff and Matt volunteers to go because he might be the last person to see Jay alive.
Flashback time to 1994, where the brother's wash Damon's car, as they watch Zack and  the very pregnant Gail.  Stephan is quick to advise Damon to stop thinking of Zack and Gail as prey because they are both on vervain. Hmm let's see, new Black character, yeah Gail is vampire food. In midst of the telling of Damon telling this story, Kai falls asleep, causing a grouchy Damon to snark. Kai's swears that he wasn't sleeping and sarcastically questions if Damon killed Gail.  Damon tells Kai that the only reason he is still alive, is because Damon thought Kai could help them.  Kai replies that they will harness the power of the eclipse, using a mystical relic called an ascendant. Kai slices his finger, adding that they need a locater spell.
Back in Savannah, Stephan shows Elena his paycheck for the week, which is a grand total of 206 dollars.  Stephan questions if Elena wants to go and get drunk, to which Elena replies that she gets that the point is to live as human as possible.  Elena then points out Stephan's expensive classic car and a sheepish Stephan admits that Damon isn't around to torture him about the car anymore.  Elena snarks about Stephan working a dead end job but Stephan says that they get to decide who they want to be for the next thirty years.
Back at the hospital, Alaric talks with Jo about Jeremy's drinking.  Jo says that Jeremy will be fine, especially if Jeremy is anything like his sister and that this is something she treats every single night on campus. How is Elena, someone who clearly rarely attends class, suddenly a paragon of goodness?  Over her shoulder, Alaric notices a kid with a massively bloody nose and so Jo snarks that when a moderately successful, beautiful doctor is flirting with him,  Alaric should give her his full attention, before walking away.
Elena and Stephan have now hit the bar, where Stephan suggests that if Sarah "outs" her that she should start her life somewhere else. Why oh why equate vampirism with an GLBT identity? Stephan asks that Elena hand over her ring and then gets on one knee, before loudly starting to propose.  Elena queries whether Stephan is proposing because she is pregnant. Stephan loudly proclaims that Elena has stood by his side during addiction, multiple accidents, including a bull fighting injury.  Elena can barely stop herself from laughing, as she says yes, as the bar breaks out in applause.